Press
FOR IMMEDIATE RELEASE:
Hammer Nutrition Joins BRM in support of Steve Jenkins' 2013 Race Season
Glenview, IL- February 26, 2013- Hammer Nutrition of Whitefish, MT and Steve Jenkins of Glenview, IL today announced a partnership for the 2013 Racing Season.
Steve Jenkins the owner and driver of the #28, 4 Feathers Racing/ Fall-Line Motorsports Porsche 997 GT3 Cup Car running in the competitive GT2 Class of the SCCA Safe Race National Series is excited to add another company to the long standing support of BRM Chronographs for the 2013 season. "It's so great to have companies whose product I already use and love come aboard and support my racing. What a feeling to be able to represent people you believe in, and to have them believe in you! I have used Hammer Nutrition products for a while now, as daily supplements, in the weight room, and on my bicycle. Its only natural that they should be involved in a sport that requires the endurance and focus it takes to drive these cars."

Hammer Nutrition brings great products for endurance athletes of all kinds to the auto-racing paddock for the first time. From their award winning high-energy electrolyte sports drink HEED, to their post work out RECOVERITE, and many other naturally healthy supplements, Jenkins will surely be benefiting from the partnership both on and off the track! Founder and president of Hammer Nutrition, Brian Frank, had this to say: "As Hammer Nutrition products become more widely known and used in the world of motor sports, we are excited to be associated with Steve Jenkins and Fall Line Racing in 2013 and beyond. Steve is a prime example of the fitness and endurance required to excel in sports car racing and we are honored that he chooses to fuel his body with Hammer Nutrition products."
Returning for the 5th consecutive season of support is BRM Chronograph. With motorsports inspiration, and manufacturing techniques, their watches are a favorite of Jenkins; "I just love BRM watches! The extent of the detail in the machining of the cases, and the exotic materials they are using is so similar to race cars".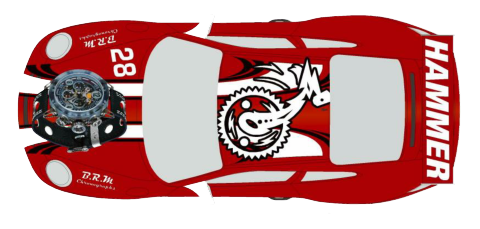 The 28 Car will again be adorned with a watch on the hood that matches the watch on the drivers arm. This year the case of this watch will be made of Makrolon, a high-tech polycarbonate used in automotive headlights and racing windscreens among other places.It is an ultra lightweight material, making the BRM MK series of watches the lightest automatic chronographs in the world. Frederic Gasser of BRM NA added: "Since 2009 Steve has been a great ambassador for BRM. BRM is very proud to be involved in this promising 2013. We wish great success for Steve and the MK44 and this very good looking 911 GT3″After finishing with a record number of points in the T2 class of competition in 2012, Jenkins moves up to the faster GT2 class in 2013. The new car will continue to be run by the highly regarded Fall-Line Motorsports in Buffalo Grove, IL where Jenkins is the in-house driver coach. "I was at Fall-Line in the very early stages of its existence, I've raced with other teams, and worked for other businesses in the industry, but one thing to me is very clear… they continue to be the best at what they do. I have confidence in letting them run my car, that it is safe mechanically, driver wise, and that the method in which they go about things with their customers makes everyone a better and safer driver/racer".
About Hammer Nutrition- Founded in 1987 by Brian Frank, Hammer Nutrition offers a comprehensive line of fuels and supplements designed specifically for unique needs of endurance athletes, including racecar drivers.  Hammer products are literally "health food for athletes" – being made with only wholesome ingredients and containing absolutely NO refined sugar, artificial sweeteners, colors, flavors, preservatives or chemicals.  They are 100% gluten free, diabetic friendly and ideally suited for junior athletes.  Besides being heavily used by traditional endurance athletes such triathletes, bike racers and runners, Hammer Nutrition products have become increasingly popular in the Paddock area of all forms or motor sports – from endurance racing to Baja 1000 to shifter karts – used while driving and in cross training to improve energy, endurance and recovery.  Visit www.hammernutrition.com to learn more about the product line.
About BRM Chronograph- With 25 years of watch making experience, Bernard Richards Manufacture is steeped in spirit. The Racing Spirit, in its purest form, profoundly anchored in the BRM spirit, distinguishes Bernard Richards' creations from any others. A BRM watch cannot leave one indifferent, it becomes an obsession. Known only to a microcosm seeking the absolute. In elitist circles, one never talks of mass production, the only key word is perfection. www.brm-manufacture.com
About Fall-Line Motorsports- Fall-Line Motorsports is a premiere builder and fabricator of racecars for all levels of competition. Fall-Line specializes in BMW, Porsche, Audi and other high-performance makes. Fall-Line Motorsports unveiled their Grand-Am team in 2006 and won the GRAND-AM Continental Tire Sports Car Challenge GS Championship title in 2010. In addition to fielding 3 GS BMW M3's in the Continental Tire Sports Car Challenge, Fall-Line also prepares and fabricates cars for other CTSCC teams, SCCA and NASA drivers, track day prepared and high performance street vehicles. www.fall-linemotorsports.com
Contact:
Steve Jenkins
sjjenkins@me.com
847-858-0289
---
Jenkins Heads to National Championship Runoffs in search of Super Sweep
Sept 14, 2012 – Glenview, IL
Steve Jenkins is headed to Wisconsin and the Historic Road America race track to compete for the SCCA National Championship next week. The culmination of a nearly perfect race season comes in the form of a one race, "winner take all" Championship on Sunday the 23rd of September at 9:30am cst.
Jenkins competed in 8 races during the regular season, scoring 7 pole positions, 7 wins, and 2 track records in the competitive Touring 2 (T2) class of the Safe Racer SCCA National Racing Series. On his way to leading the National Points with a record 133 points on the season, he also won 2 BF Goodrich Super Tour races, and his Division Championship. In doing this, he is qualified for the SCCA Super Sweep which can be won with a first place finish at the Runoffs next week.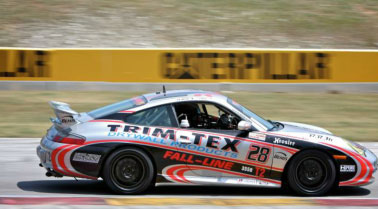 "This has been a storybook season for me" commented Jenkins. "I hadn't really been racing regularly for the past few years, and when I decided to do this, I decided to do it right, with the right car, and the right people. I hoped I had made the right decisions, and it looks as though I have! Fall-Line Motorsports has done a flawless job with the car, and you can never go wrong with a Porsche on the race track!"
This will mark Jenkins first trip to the National Championship Runoffs, even though he has competed in this series in the past (2006-2008). When asked if he thinks he has what it takes for the Championship, Jenkins had this to say: "Honestly, I'm not sure. I think there are cars that are better suited for the up hill exits of a few of the turns at Road America, but I think my Porsche will be more consistent in the long run. I have the attitude of doing whatever I can to make the car go fast, and to let the chips fall where they may. I feel like finishing the season with a record high point total is more of an accomplishment than winning one race at the end of the season. That said however, the National Championship is just that, one race, and I would love to be on the top step of that podium."
Jenkins 2004 Porsche 996 carries sponsorship from Trim-Tex Drywall Products, BRM Chronographs, HRE Wheels, Napleton Porsche, and Bemis Mfg.
"Without the support of my partners none of this would be possible, and I owe them a lot of thanks!!" concluded Jenkins.
You can watch the Championship Race Live on https://www.speedcasttv.com/scca/ at 9:30a CST on Sunday the 23rd of September
---
Contact:
Steve Jenkins
sjjenkins@me.com
847-858-0289